This is the 100th blog I am posting on this website. It's appropriate the pictures are of Rob Garza and Thievery Corporation as I have great respect for what Rob and Eric have created over the last seventeen years. They are totally independent within the music industry and are also both good people. Which counts.
A couple of weeks ago I was down in Washington, DC as Thievery Corporation were doing a hometown music festival. When Rob knew I was going to be in town for the show he asked if we could do a photo-shoot as he is now doing a lot of solo DJ gigs and needed some new pictures to promote that side of his life.

We met on Friday night at Eric's new bar, Chez Billy, for the festival pre-party and arranged to get together for the photoshoot on Saturday afternoon before going to the festival. I'd taken my bicycle down to DC with me so I'd be able to get around easier and rode over from Georgetown to meet with Rob at his hotel around 3pm.
Once there we got straight into it and I ended up shooting eight different looks with him in just under one hour. We have a great working relationship and afterwards Rob pointed out this was the fourth time we'd done a shoot together. I think it gets easier the more you work with someone because they develop more trust in what you are doing with them.
I originally met Rob and Eric in Sydney back in 2004 when they were promoting The Cosmic Game album and I did this photo shoot with them for their Australian label.  We wandered around Luna Park opposite the Sydney Opera House and shot a bunch of pictures before going back to their hotel and shooting some more.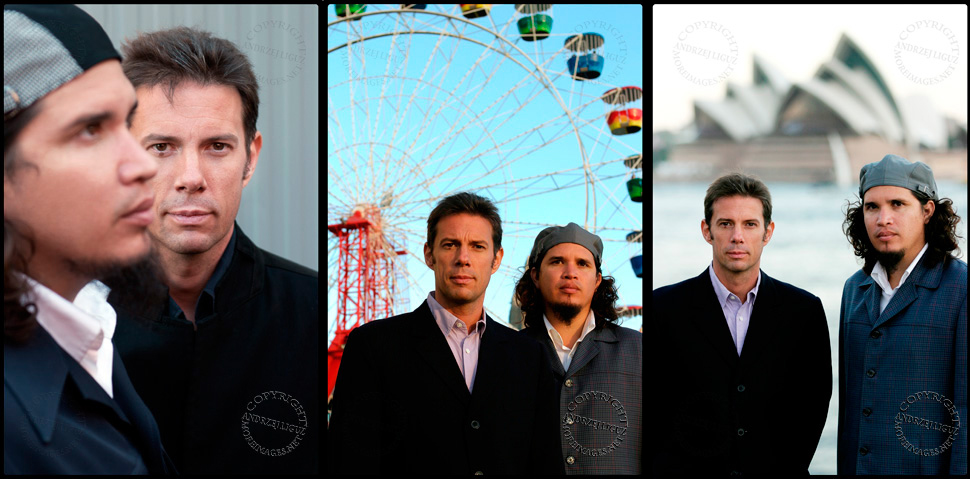 We got on really well and they were happy with the pictures. We all went out for dinner before they left Sydney and Rob and I spent ages talking about music and politics and life and stuff and began what has turned out to be an enduring friendship.
When I moved to NYC at the beginning of 2006 Rob asked me to shoot the pictures for his solo project, Dust Galaxy. He initially proposed that we fly down to Mexico as he wanted to shoot around a Bodega, but I suggested that to save money we shoot up at Spanish Harlem, here in NYC. Which we ended up doing. One of my favorite pictures I've created since I moved to America is the shot below and to the right, where Rob is standing in front of the door with crosses. There is something about this image that resonates for me.
I remember telling Rob at the beginning of the day that I believe it's possible to find six different locations within fifty meters of any given spot. Unless of course there are definite geographical limitations, such being in the midst of a desert or on a boat in the middle of the ocean. Rob looked skeptical.
About halfway through the day he was happy to acknowledge that I'd proved my point by shooting four different looks within twenty meters. I spotted four very different looking building all next to one another so I pulled the car to the side of the road and parked. I got Rob to change his jackets and shirts and positioned him in front of the different buildings. Three of these seven pictures of Rob are from those four buildings.
During the tour Rob undertook to promote Dust Galaxy, I met the Brazilian Girls at his NYC show and so began my relationship with Nublu. I wrote extensively about the Brazilian Girls and Nublu in here a couple of months ago.
In early 2008 I received a phone call from Phil Hawken, who runs ESL (Eighteenth Street Lounge Music) Label for Rob and Eric. He informed me they wanted me to come down to DC and do a shoot as they were preparing Radio Retaliation for release and needed some strong images to go out with it.
I was excited as I'd never been to DC before and delighted to finally get the opportunity to visit. I got to meet all the other people involved with ESL, such as Phil and Stone (who runs the studio) and re-establish communication with the mighty Kalani, who had toured managed them in Australia. I found that trip confirmed for me just how smart Rob and Eric have been.
Eric is one of the co-owners of the Eighteenth St Lounge club and in 1995 Rob and Eric met over their shared love of disparate genres of music. They started out DJing by mixing Bossa Nova, Jazz and Reggae Dub and then moved into creating their own music, which they released independently on their own label, Eighteenth Street Music Label.
After their early 12" releases they were courted by a variety of major labels who waved huge sums of money at them. They were offered a million dollar advance, but influenced by seminal DC band Fugazi's DIY perspective, they decided not to take the easy money but to build their own label instead. Which they've done. With independent distribution deals right around the world. And over time they've ended up being really successful. On their own terms. Respect.
And not only respect for their success, but also for the fact that they've surrounded themselves with smart people who are also very cool to deal with. I've met too many people in this industry who are dickheads. None of them work at ESL or are involved with Thievery Corporation.
Both Rob and Eric have pursued projects outside of Thievery Corporation. Rob had his musical side project 'Dust Galaxy' in 2006 and has developed a good solo career as a DJ whilst Eric wrote and directed the DC based thriller, Babylon Central in 2008 which can be seen here. He also owns or has shares in about 10 clubs and bars around DC. All of which are very cool and have contributed to a thriving nightlife and music scene in DC. But both Rob and Eric keep coming back to Thievery. With good reason. They work well together and have a fantastic live show with over twenty performers on stage at any given time that has been honed to hum like a well oiled machine creating superb sparks after many years on the road.
Our shoot in DC went really well and they subsequently used my images to promote the Radio Retaliation Tour as well as the album. And then in 2010 Phil called me and asked if they could use my picture on the cover of  their 2010 'Best Of ' compilation, 'It Takes a Thief'. I was delighted and honored and obviously agreed. I thought Neal Ashby did an excellent job on the design and it's probably my favourite CD/Album cover that has used one of my images.
To help promote the 'It Takes A Thief' album they did a fantastic tour with Massive Attack in early 2011, which helped sales increase accordingly.
Thievery will probably have a new album out at the beginning of next year. Go get it when it comes out. It will be good. They always are.
---